<meta name="Description" content="Product name: Apple Iphone 4, Category: Lifestyle review, Brand: Apple iphone 4 apps, Product category: Photos and applications">
I read this tag post from Sophia's blog and thought it was interesting to know what apps others are using, especially fashion and beauty apps. So I would like to share what's on my phone and if you would like to play, you're tagged! 
</p>
I am using an Iphone4 that I have been using since Sept'10 so my contract is going to be up soon and I am anticipating to get the iphone5. Hopefully it launches soon! 
This is my cat Miffy and I love this picture. He looks so adorable. I would look at this picture whenever I miss him. :)
This is my wallpaper. I love this shade of pink and I love the gold and pink as used on the Prada Saffiano leather. I got this wallpaper after seeing the bag at Prada at Marina Bay Sands. I went to the Prada webpage, hunted down the image of the bag and made it my wallpaper. This is one of the colours for Prada's pre-fall collection. I like to keep this page clean with minimal apps, so it won't look cluttered. It's also such that I can still see the Prada logo. Hehe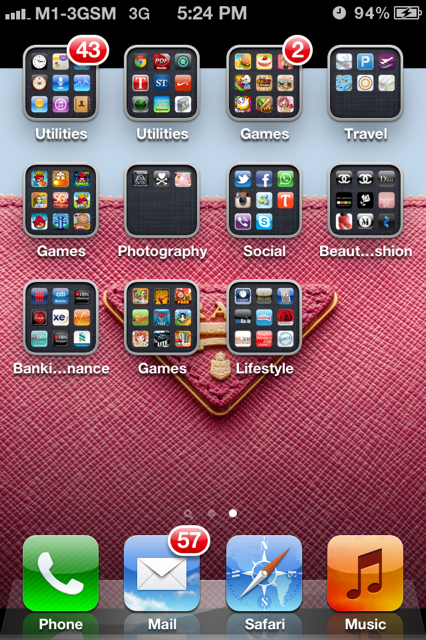 This is the second page, where I store all my apps, categorized accordingly. Pretty neat huh? :P
Let's take a peak into my photo album. Most of my photos are of my cat, travels, beauty and food. Even though I would use my DSLR when taking pictures of food, I have the habit of using my iphone to capture a shot because it is easier to upload onto my facebook / twitter / instagram etc. 
If you aren't following me on twitter or instagram yet, do add me at stacey_1805 if you would like for real time updates via instagram and certain photos may not end up on the blog.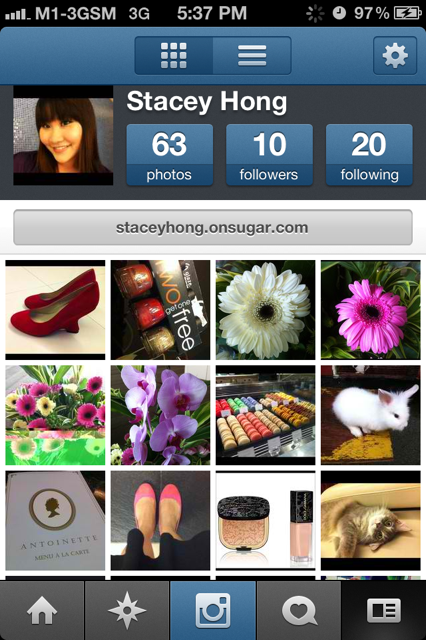 Some shots of the Hermes leather swatches for reference. It might come in handy when I get an Hermes Birkin! :P The colours and grains of the leather are so pretty..
Now, onto the apps! I am always in search of apps that are relavant to my lifestyle to make things easier for me. 
For example:
- Movie apps to check availability and make bookings
- UOB Lady's app to book a cab and check out latest credit card promotions
- Live radio streaming should I be bored with my mp3s
- App to reserve tables for my dinner dates
- Perks and loyalty card app to track my rewards
These are my favourite games, very kiddy I know but they keep me entertained during office hours :P
- Restaurant / bakery / fashion story - I have been playing it for close to two years and I think I won't change to other phones if the other platforms can't support this game. 
- Plants vs zombies (PVZ) & fruit ninja are seriously addictive games 
My apps for all things beauty and fashion related.
- Zinio is fashion magazines subscription app, and I can browse my online mags on this app
If you have other beauty / fashion related apps, do recommend me some! 
My apps for managing my finances and monitoring my forex investments. DBS has quite a few apps for dining / shopping promotions etc. 
</p>
I have songs of different genres, ranging from pop to jazz and I have some songs that I love from an anime that I've watched - K-on that I love listening to even though I can't understand most parts of it. 
</p>
I am tagging everyone who reads this post and if you would like to share what's on your phone, just leave a comment with a link to your post! 
</p>